New entry here:
http://sadcircusbythesea.typepad.com/the_sad_circus_by_the_sea/2006/08/marines_hobos_a.html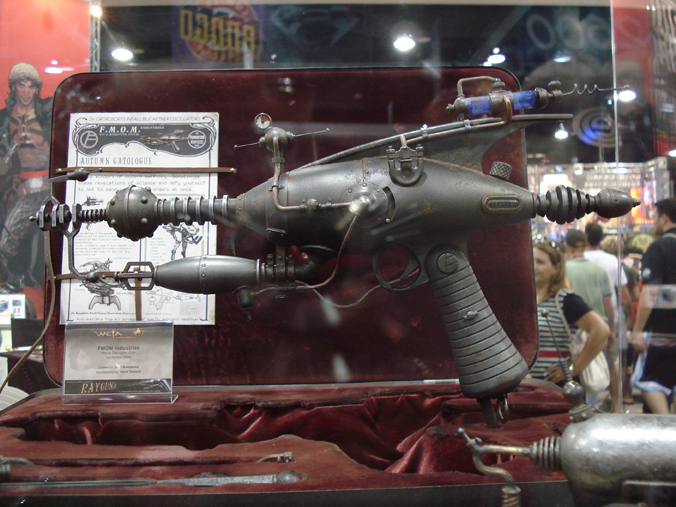 Beyond the photo of the awesome rayguns, there seems to be a giant poster of a betrenchcoated, shirtless man with a blond afro-mullet. This is why we have arguments with ex-marine bus drivers. Stop it, whoever did this. Just stop it.
This marks twenty years that I've attended the Comic Con in San Diego and it's taken me this long just to understand how much that town hates nerds, geeks, dorks, and comics enthusiasts in general. The realization doesn't come as a shock, just more of a numb disappointment — sort of like Pink Floyd's
Comfortably Numb
played backwards and given a bit of a rhumba beat. I think I've mentioned my love of this city before, but I understand now that it's to remain unrequited as long as sequential art remains the vehicle for my story telling.
It doesn't surprise me that some people had to hide their convention passes when riding the trolly to keep from being refused entry. It doesn't surprise me that I should hear the local "alternative" radio station blaze forth the message that, while trying to give away free tickets to the convention, you would not lose your manhood in the presence of so many awful comics since Samuel Jackson was to make an appearance. "I've never picked up a comic in my life and it's a crime to call this convention a comic convention," bleated the thoughtless jock on the radio, "This is a pop culture event. It's got movie stars and TV shows and rock stars!" And as painful a stab as that was, I have to admit that the very presence of Mace Windu and the force of his Hollywood clout was enough to get us parking at a trolly station that probably would have otherwise been closed to comic con nerdery.
Things never change. They only irritate you in new ways. I still remember my first visit to the convention, then at the old convention center, when I was 15 in 1986. I was very excited and as always very quiet. My traveling companions were not so quiet. Very secure in their nerdom, they were content to speak very passionately about science and space and all that. I was cautious. I grew up in a series of white trash public schools where one understood immediately that the smarter you were the more you were loathed and the more you were a target for the jocks. Walk softly and keep a low profile and if you're tall try to slouch to fall below the eye of the meathead. You can still work your magic, your life of science, just wait until the jocks aren't looking. But no, my friends were very animated in their talk of warp drives and zero point energy systems and thus we caught the ire of a drunk who stumbled from a bar, and spotting us with badges and bags and glasses snarled at us, mere children, "What is is this? A nerd's convention?" When I got home after the con I didn't leave my room for a week. I know, a bit too sensitive, but my low profile had been shattered. I had been caught out of my element (my bedroom) by the inebriated eye of the sportsman foe.
Two years later, age 17 was the hell of knowing female companionship: that junior year in high school where both chemistry and geometry are failed because one discovers condoms have a use other than oddly-shaped water balloons. And so there I was, wandering from hotel party to hotel party at the 1988 Comic Con. I don't know how it happened, but there in the misery of having seen the girl I admired walk off with a man named Art who wore a badge that read "Fuck Art," I found myself in the company of a stranger at a dance. He fed me a volley of Long Island iced teas and while by the third I was feeling as if my legs would like to lie down with or without me, it soon became obvious that this man, who was twice my age, most definitely would rather I lie down with him. Wobbly but determined to escape, I made my way out into the night alone and soon found myself in a hobo camp behind an office building. The homeless were very welcoming that night and were very eager to hear my story of heartbreak. You see they had no TV, and even if they had, teenage angst was not yet the vogue for prime-time. The lead hobo was very sympathetic — for it seemed that his own loss of house and home had something to do with the feminine gender —and he bid me stay at his camp whilst he fetch his Thunderbird. His special sharing-bottle. Well, I sat there for quite a while, alone and waiting, until from somewhere far, far within the cartoon landscape of my aberrant mind, all of a sudden the voice of Bugs Bunny cried out, "What am I doing?!?" I left and I like to imaging that the girl I lost somehow got jilted by that fucker Art and settled down with the hobo and his sharing-bottle for the night. But that's just crazy talk.
Fast forward to this year. 2006, age 35, and here I am once again at the comic con, now called Comic Con International — and just as well it should change its name for all that city cares about it. I still love San Diego for its pandas, but if it hurts the pockets of that unappreciative metropolis then I hope the whole convention moves to Anaheim someday.
Now in 2006, the convention wasn't so bad. In many ways it was a great deal of fun, although for us it began with possibly the worst hair cut I've ever had. I say "us" because Tavisha had to listen to me complain about the cut all through the convention. It's been almost two weeks and she still has to listen to me complain — and so do you: I told the woman in Hill Crest that I didn't want a mullet and I didn't want a flat top. What I wanted was something akin to the Edwardian mushroom-top of the philosopher schoolboy. What I got was a Q-Tip and when I asked her to shave the back of my head she looked at me as if I had requested live puppy rape there on the cutting room floor. I knew I should have run out the door the moment she mentioned how her pet squirrel liked to steal her weed. Hippies! They don't know hair! They have mountains of the stuff but only because they don't when or how to cut it.
The convention was bigger than usual. Well, it's always bigger than usual, but this year they finally reached capacity with no room to grow. Next year I suspect the problem will only get worse, thanks to the death of
E3
.
Chris Furniss of the Weekly Geek: Apparently E3 is cancelled. For next year.
Rikki: Shriners?
Chris: Those dastardly fez-wearing bastards.
Rikki: It's been my experience that when a major venue closes that it's usually because Shriners have booked the place centuries in advance.
Chris: Oh? That is quite an insight!
Rikki: Or! Maybe they realized it''s just not worth showing off movie franchises and parts XXII of the same ideas.
Chris: Its a good thing. Apparently a bunch of big publishers all agreed to pull out. E3 is just a noisy spectacle anyway.
Rikki: Really! Wow!
Chris: They are announcing tomorrow the cancellation or complete reworking of the show.
Rikki: Maybe all the publishers took note from Blizzard and realized they could get more attention and make more money by just having their own con.
Chris: I believe so. It's all those damn movie franchise games, I tell ya. Midway sent me the game based on the Ant Bully. Its hideous.
Rikki: The movie is too. The fact that e3 was industry only sucked balls the size of which are usually savored by Galactus.
Chris: I think that once people started cosplaying to E3, it was over. The event is supposed to be industry only and media. They let everyone in. Heck, they let ME in two years in a row.
Rikki: You can't keep out da man. I mean, I got in.
Chris: Exactly. They didn't discriminate. So you had people who were just there to get free stuff clogging up the tubes. It got really obnoxious trying to actually cover games, when some douchebag from Circuit City cuts in front of the line.
Rikki: It was kinda hilarious signing GIR autographs there while wearing a badge that read "Scott."
Chris: Well ... GIR was in some Nicktoons racing game, right? See? You had the right to be there!
Rikki: This will be crushing for the video game web comic enthusiast who only made their comic to get into E3.
Chris: All 500 of them.
Rikki: What will they do now?
Chris: Make a candy web comic so they can get into the candy convention.
Rikki: Oh! I need to try that!
Chris: Free candy.
Rikki: And whores for some reason.
Chris: Gotta keep up morale once the sugar rush goes away.
Rikki: To dream the impossible dream ... .
I'm hoping next year's tension from overcrowding at Comic Con, if mixed with the kind of heat we got this year, will lead to all-out fanboy vs. jock war-in-the-streets. That way everyone dies of heat exhaustion by day two, just like we did. I think we only made it to Eric Trueheart's dinner this year, as far as organized chewing went. Everything else mostly happened in the company of John Scharmen and his many video game friends. We went where the cars took us, mere leaves in the wind of delightful company and delicious food-stink. So it was mostly Japanese, Chinese, and British fare far away from the horrors of the fashionable Gaslamp District. This was as much as we could do in the miserable heat. We didn't make it to any of the dinners we were invited to, not Tokyopop, not Disney, not the various mixer things that writers like to do. We are not healthy, toned and conditioned people, ready for hiking at a moments notice kind of people. We are comic creators. Even though we knew this con was coming and we took every opportunity to go out walking in our hilly neighborhood, weeks before the convention, the fact that we did not have a booth or table turned our limbs to pain-soaked goo. We almost didn't need a table, however. We were stopped so many times by fans and friends we were sort of a walking table.
We were even stopped by a Hare Krishna. On Friday of the Con, my dad and my 17 year old brother,
Robert
joined us on our march from our parking spot to the bus. We were stopped on our way by a man with a shaved head and a bob. He was asking for directions and was also curious about the convention. I've been around the homeless enough to understand this ruse when it comes up. In Los Angeles there was one particular hobo who on three occasions asked me for directions for the bus depot because you see he was from out of town and was just trying to find his way home to georgia and could I also lend him the bus fare, etc.. This chatty fellow had something more than just homelessness about him. He was clean, wearing long shorts and moderate in every way except for the bob, and then before he said it, I thought,
monk
. Yes, he was a Hare Krishna and he was here to tell us about the sadness of materialism. I did not have time to debate with him on materialism because I was trying to get my very material body onto a very material bus that was currently on schedule to ride itself very quickly away from our party that comprehensively existed in that space and time as was required for our physical forms to get on. It's all very easy to complain of materialism when you're a monk who doesn't build the roads you walk on — the very material roads that facilitate the moving of material goods that keeps us alive. It's very easy to be a monk with a material mouth that is used to say the words, "You are not your body." Easy, but entirely impractical and unrealistic. He was nice though. My dad tends to let his guard down when he's traveling with Tavisha and I. He tends to get very excited and happy about the things we do and the people we meet. However, I was still shocked to see my dad hug the man. I have never hugged my dad. San Diego confuses me. Oh, well. He got an
interesting book out of it
(after "blessing" the monk with two material dollars).
Not everyone felt blessed that weekend. Ex-marine bus drivers were especially in a foul mood. I guess I can't say, ex-marine. You're not supposed to ever stop being a marine. But, you know, when you're driving a civilian bus, and especially when you're driving me and my wife, stop being the belligerent kind of marine for at least 20 minutes. Please. I suppose, being that we weren't in costume, had no bumpy Kilingon foreheads, and wore glasses of a thickness where one could still see our eyes, the driver felt comfortable enough to turn to us (our seat being right next to his) and lament the old Shatner standard: "All these guys wearing
Star Trek
uniforms and collecting comic books! I mean, get a date already! Grow up and find a girl!"
I explained that many of them had girlfriends and that they were simply into the same hobbies as their boyfriends, or in many cases husbands. He scoffed at this idea and said that when he was in the Core he was taught to grow up and be a man.
I said, "And then what?"
He scowled at the throng of pedestrians having a better time than he was and asked, "What do you mean?"
I said, "You've grown up, you've got a girl, possibly a child too, and then what do you do? Go to a game? So what? That's boring. Some people prefer to collect and read science fiction. And besides, you can find any kind of story in comics, not just super hero. There are comics on Palestine."
He scowled at this too and replied, "I have a cousin with all that crap. He's got comic books all over his house and I'm like, sell this stuff and make a couple of grand."
I said, "They aren't worth that much, and if even if they were, so what? You can make a couple of grand doing anything. Anything. After you sell the things you love, then what happens? You buy some new clothes, pay some bills, go out to dinner a few times. You've still lost the things you loved just for the sake of a fleeting two thousand dollars."
The ex-marine bus driver seemed to think on this a moment and said, "I collect baseball cards." And at this point, my very eloquent partner, Tavisha leaned forward and laughed at this once proud killing machine and said, "That's stupid! I hate sports!"
I tried to ramp the anger level down a bit by then stating, "People collect anything. My mother collects ceramic pigs. I don't know why, but she does." This at least finally got a laugh from our driver, and few hangers-on who I had no idea were listening. I explained that, "I have a friend who was married to a primatologist, and as he explained it to me, whenever they went into the jungle to find apes, all they had to do was follow the trail of garbage, and when they found the apes, they were usually sitting on a pile of the things they had collected. We do the same thing."
Tavisha, feeling him begin to crack a little, finally fired the shot that shattered his
Kurt Wimmer-like overpriced B-movie glass armor
and reduced him back to his pre-marine boyhood, "Haven't you ever really liked something you didn't want to give up? Take Pokemon, the card game was very popular when you were a kid and -- "
"Oh, man I love Pokemon!" cried the now helpless ex-soldier. And from there he went on to describe his entire collection, the cards, the video games, which card he'd lay down first and which Pokemon was his favorite (Charmander), the Ruby, Sapphire, Silver, editions of the Gameboy game, his prized card was Charzard and on and on. Finally we arrived at our destination and I think we finally got someone who was at first full of typical San Diego meatheadedness to remember that we're all just damn, dirty apes in the end. Take that Hare Krishna hobos!
-Rikki