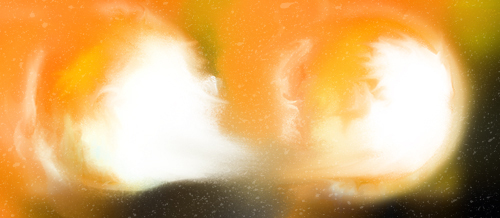 Do not dunk your balls in Tiger Balm.
In fact, if at all possible, keep the stuff as far from your balls as possible. Now, I'm not saying this has happened to me but let's just say I have a kind of inside knowledge, like a guru of white hot burning, and I am your man who has floated the aether of the nerves of space and unspace, an astral projector under the searing scrotum of God.
Let us say that your leg hurts and in seeking relief you turn to the heated shower found either within your domicile, or, for my Dutch hippie readers, in the abandoned office you are squatting in. You seek comfort in the balmy, artificial raindrops, an ease of all that ails you. But this is for naught. The pain persists and lo! Though the act of steaming the stuff of your epidermal tissue has opened all your pores you think not of the consequences and reach for your happy friend: Tiger Balm. But it is not your friend, is it? Oh, no. I shall describe the sensation:
It begins suddenly. Though you rubbed the enemy ointment into the tissue of your leg, you completely forgot that the leg is not a limb in a vacuum. It is attached to your … other parts.
It is as if your two best friends in the world, who also happen to be symbiotic twins, suddenly turn into sizzling ultraviolet sunbags. The pain moves at the speed of hurting straight to your neuromatrix, and immediately your cerebellum attempts to find an exit. But it is no use. The only destination is the House of Delirium at the corner of Oh, My God I'm Going to Die . You find yourself at the bottom of an abyss and you floated down there lungs soaked with the sea but without drowning just like that perfluorocarbon breathing guy in the movie,
The Abyss
. And you suffer so many more endings than even Cameron can conjure. As you lie there on your back on the bottom of the black ravine the universe reveals its secrets to you. They're really stupid secrets too. Not so much as profound as they are more like finding a year's subscription to Yachting and Boating magazine under your dad's bed: Colonel Sanders squeezes Mister Whipple while Carl Sagan rewrites the alien at the end of
Contact
into an
Urotsukidoji
sex machine. Charles Dickens helps you to your feet and tells you that he wrote Pip
for you
and the pain begins to settle into a long, throbbing ice cream headache, only much lower than your head. Dickens then bitch slaps you and chucks you over his head like so much card wood. You rise with the agony like bubbles of air and this doesn't seem so bad until you realize the bubbles spew forth from an ass the size of Mount St. Helens. Eruption is imminent and somehow … intimate. A sound like a Krakatoa arm pit imitator reverberates across the void and your upward momentum hastens in only an irritating fashion, like that awful slow motion Nazgûl horse chase in the
Fellowship
movie. You shake your head in anger, but this is enough, this is enough to propel you to the surface, stripped of life from your aborted saturation dive, you suddenly remember every monkey joke from Gideon Defoe's
The Pirates! In an Adventure With the Scientists
and you weep. Oh, you weep.
Do not dunk your balls in Tiger Balm.
I'm just saying. In case you were thinking about it.
-Rikki