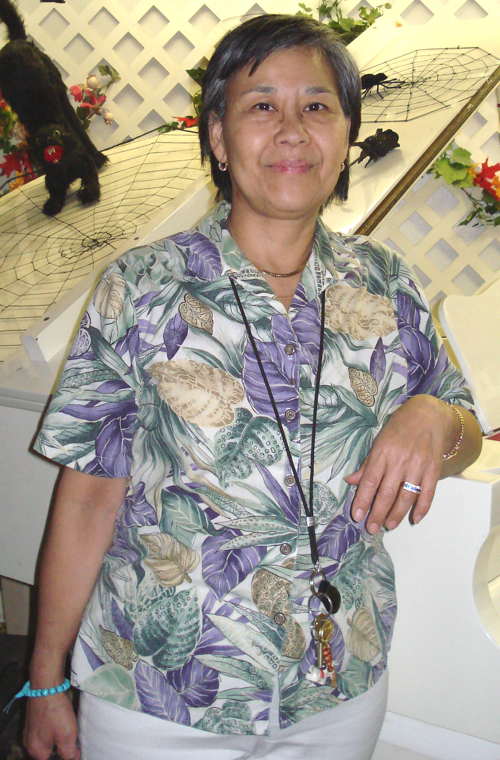 Tavisha's mother, my mother-in-law, Dyane "Dee" Blackford is missing. She was last seen at 7:15 AM, Thursday, February 21st at her retirement home in Glendale, California. It's now Sunday the 24th and she is now three days gone from her place of safety. She has dementia brought on by aphasia, she cannot understand language either written or spoken, and she speaks mostly in gibberish. She cannot say her name nor does she always answer when you call her by name, but she will often say "Hi!" and she is very friendly, especially to strangers. Dee suffered what we believe to be a stroke, possibly in March of 2003 and I still remember what she said when she called me that week: "I feel like I walked into a dream." From there her ability to comprehend language of any kind rapidly declined.

We have filed a missing persons report with the police department in Glendale, Tavisha has called all of the local hospital and psychiatric wards in the area asking for a Jane Doe (since Dee cannot say her name and she had no ID on her), we've driven around in Glendale looking for homeless areas, and we've given her photo to the security at the Glendale Galleria, and the police say they will deliver her photo and information to the local news.

We live 90 miles away from Dee and no one at the senior center knows what happened to her. All we know for certain is that she had breakfast just before 7:00 AM and that one of the attendants saw her at 7:15 AM, but after that she was just gone. No one saw her leave. The whole facility has been searched, as well as another senior center down the street. The other senior center had a bad habit in the past ( I would say criminal habit) of actually kidnapping residents at Dee's center and making them sign up at the other residence. They swear this is not the case with Dee. Clandestine senior center appropriations, who knew?

Dee is 5 foot 3 inches tall, Japanese/Asian-American, she has a bit longer hair than the photo above and she is about ten pounds heavier. She is 62 years old but she looks to be in her 50's. She has an old frayed black purse (we bought her a new one, she threw it away) but she has no money and no ID, and she was wearing tan pants.

She could be anywhere now, if someone picked her up, so I ask that if you live in the Southern California area, particularly Los Angeles County, please take a closer look if you see a homeless asian woman.
Dee has been found! She seems to be all right. She was delivered to a hospital in Los Angeles (by who, we don't know) and has been there since Friday evening. This of course, is one of the hospitals we somehow missed. She is being given a new MRI scan and she is being tested for any sign of assault and then we will be able to see her tomorrow. Thank you, thank you, a thousand thank yous to everyone who posted and helped us search for her. I sure do love the Internets right now. Tavisha will post an update to her Deviant Art and her Live Journal as soon as she gets off the phone.
-Rikki