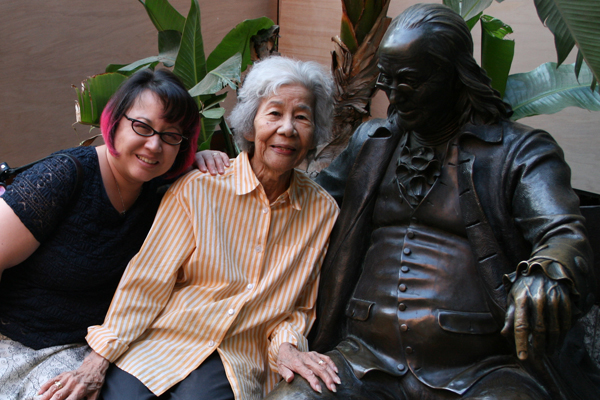 Above is a picture of Tavisha with her grandmother, who just turned 90. Grandma, not Tavisha. Grandma can be seen here getting fresh with Benjamin Franklin. I think they used to hang out.
We're thrilled that she's still with us. She was born in 1918, and though she doesn't have a very good short term memory anymore, she can still tell us stories about her time in concentration camps in Kansas and Colorado during WWII, she can tell us about Angel's Flight in Los Angeles, about Little Tokyo in its heyday, about skipping out to see the movies on Saturday instead of going to Japanese language school lessons ... . It goes on and on and we're so happy she goes on.
But here's why I'm writing today -- on to the list:
Places We Won't BeTokyopop:
Tokyopop, as part of their massive restructuring, has cancelled
ShutterBox
and they will not be printing Book 5, though it is finished. I know that this is an impossible thing to ask of the Internet's denizens, but please don't lash out at Tokyopop over this. That doesn't help us or them. This is just the way publishing goes sometimes. We own our copyright and we have a termination clause and our manager is going over it with them. Tokyopop is responding very kindly and we have a sense that everything will work itself out in the end. We apologize to our readers. I know you're waiting for this volume, and we ceratinly want to give it to you. We are in the process of finding a new publisher and as soon as we finish figuring everything out I'll post an update here. It may take a while, but we'll get around to it.
Places We're Going to BeMoving:
We're moving back to LA county sometime this month. Looking forward to better access to Beard Papa and his
amazing legend
.
Conventions:
Tavisha and I are attending the following two conventions as guests this year:
Anime Weekend Atlanta 14
September 19 - 21, 2008
at the Renaissance Waverly Hotel
and Cobb Galleria Centre in Atlanta, Georgia
and
2008 IZUMICON
November 21-23, 2008
at the Sheraton Midwest City
and Reed Convention Center in Oklahoma
And finally ... .
Places We've BeenComic Con in San Diego:
Every year we plunge into San Diego with little in our bank, our car on fire, no sleep, and somehow end up meeting with people who make more money in a month than we have in our whole career. This year wasn't much different except that we didn't see much of the con itself. We drove in each day from our house in Lake Elsinore, parked in Seaport Village and then passed out at the Marriott lounge every time. I think it was about 3:00 PM on average whenever we did see the dealer's room. But whenever we did make it to the Con everyone was so nice to us we started to feel like grandparents ourselves. But then a man panhandling outside Vons said, "God bless you sir. See you in heaven." So that must be it. Everyone's so nice because they're waiting for me to die. That's so sweet. I'll get around to it eventually, don't you worry.
Et Cetera:
What else, what else ... ended up in a few show pitch meetings. We had a very nice meeting with Henson Studios for a show we were pitching with
Eric Trueheart
. Of all the people we met with, Henson Studios actually asked us how the mechanics of the character's faces worked. That sort of thing is very exciting to us, and you almost never hear that sort of talk from producers. Usually trying to talk with producer type people is like trying to talk to steam in a sauna, but Henson really cares about the characters. So that was nice. They didn't pick up the show in the end, but still it was nice.
Otherwise, we've spent most of our time either taking care of Tavisha's mother or preparing new novel and graphic novel pitches, thinking about packing, or going for long walks with wild rabbits and quail. I can't think of anything else. I know there was something, but it's not coming to me. I guess that's how it begins.
Still haven't seen that movie where that bat punches a clown. We'll get around to that eventually too. Just like everything else.
-Rikki