Humble Pie, Going Cheap!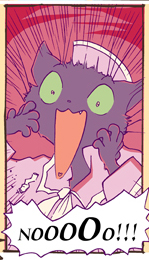 Friends, and by golly even horrible enemies, know that I hate asking for help, but I'm on Tavisha's computer right now because mine just went kaplowie. Actually, just the hard drive went kaplowie. The information is safe, but it's on a Time Machine drive, and I can't recover it without it erasing whatever drive it loads to. My iMac is, of course, now 3 months past its warranty, but I just need to buy and install a new internal drive into this mac and then I can have the Time Machine poop its amazingness into it.
Tomorrow, Tuesday the 9th of June is supposed to be the launch of our new web comic series called @Tavicat, the story of two adorable house cats and the dark gods they worship. These dark gods also seem bent on preventing the launch of this comic without sacrifice. And so I must humiliate myself for them. Dark gods jerks. They know I am a prideful hobo.
So! This is a limited time offer. Very limited. If you go to
http://www.tavicat.com/donate.html
and hit the "Donate" button, donate any amount, and include your address, two things will happen: 1) my hobo heart will fill with shame; 2) and I will sign this small print of GIR to whomever you like and mail it to you: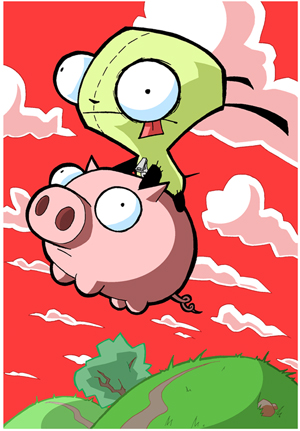 (image drawn by Bryan Konietzko, colored by Rikki Simons, created by Jhonen Vasquez, © by Nickelodeon)
-Rikki
Current Music:
Buddy Have You got a Dime, by Tom Waits